The Unconventional Success of Founder's Hall Cafe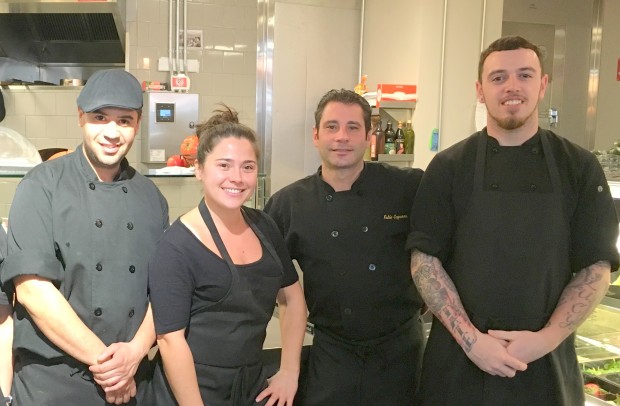 Cafe staff members Nicolas Maciel, Joana Urrestarazu, Fabio Caparra and Andrew Tate
When guests visit the Founder's Hall Café on the Ellis Preserve campus in Newtown Square, PA, they're often surprised by what they find. The atmosphere is warm and friendly, and unlike most corporate cafeterias, it's someplace you would actually want to bring a client. After choosing from a variety of made-to-order menu items, which could range from traditional Italian fare to classic Philly favorites and an elaborate salad bar that features shrimp, smoked salmon and grilled chicken breast every day, the cashier and hostess Linda O'Brien cheerfully greets customers, often by name, and sends them on their way with a word of encouragement.
Manager and chef, Fabio Caparra, credits Linda with being the face of the Café, and mentions that every person she interacts with leaves with a smile. According to Caparra, "She is not just nice, she is also skilled and moves the line along quickly and also listens for customer preferences and relays that information to us".  When customers were asking for an additional vinaigrette dressing on the highly popular salad bar, she relayed this to Fabio, who was able to respond with additional choices right away.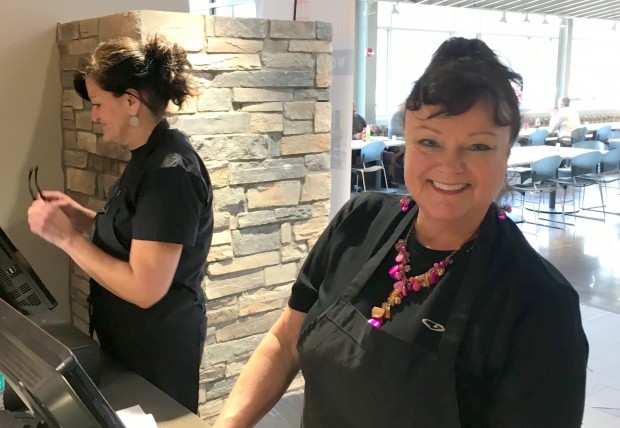 Founder's Hall cashier and hostess, Linda O'Brien -
The current Café officially opened during the summer of 2014 and is operated by Luigi & Giovanni, a popular Italian specialty foods retailer and caterer.  Luigi & Giovanni took over management of the previous, 1980's era Ellis cafeteria from Barson's Deli in 2013 with plans to improve the variety and quality of food offered each day.  For them, this represented a first time foray into the challenging business dining category, where the broad range of customer preferences are difficult to balance and guests are especially price sensitive.
Initially, employees on the campus were apprehensive about how meal prices would be impacted by the change in management. However, most of the planned menu and service changes could not be implemented in the aging café facility.  Fortunately, a contemporary new dining facility for the campus was already in the works.  The new Founder's Hall Café now offers a much broader menu and the dining area is equipped with free wifi, flat screen TV's, a fireplace, conference rooms and an outside patio, when weather permits.   The new dining experience has been received enthusiastically by employees on the campus.
Regular customer Jim Sweeney, a Raymond James financial advisor on the campus, explains it this way. "I was mildly concerned when the change was made from Barson's to Luigi & Giovanni. I was happy with the selection and value that Barson's provided. Since taking over and moving to the new location, I feel Luigi & Giovanni has done a great job. The variety and selection continues to improve and the staff is always really friendly. The salad bar is always fresh and well maintained, and I love the flatbread pizzas."
To craft and deliver this unconventional business dining experience, Caparra drew on his native Italian heritage and experience as a restaurant owner and operator to significantly upgrade the menu and service at the Café, one offering at a time.  His expertise with pizza, pasta, meat and seafood was just part of the equation, as his respectful and supportive management style has empowered the Café staff as well. By striking the right balance in the kitchen and on the serving line, he has empowered his team to deliver the kind of service experience rarely found in a corporate cafeteria.
There's no question that the new facility and additional tenants on campus have helped the Café grow from serving just 200 customers per day in 2013 to over 1000 in 2015, but the service experience has been crucial as well, causing longtime customers to visit far more often and spend quite a bit more since Luigi & Giovanni arrived on the scene.
Key Insight
Conventional wisdom is that a corporate cafeteria can't compete with the quality, service and value offered by retail restaurants without a heavy subsidy from the tenant to keep meal prices low.  But it turns out that conventional wisdom is wrong in this case.  Even finicky business dining customers will enthusiastically pay full retail for high quality food, prepared fresh daily and served with neighborly warmth.  Sometimes it's best to ignore conventional wisdom and invest in offering your customers the best quality and service possible.
Ideas to Consider
Up Your Game: We often assume that our customers will not be willing to pay more for a higher quality product or service, and perhaps we are usually correct. However, it's much better to test the waters yourself and periodically offer upgraded alternatives to your customers before a competitor comes along and lures them away by doing so.
Take the Time: Like many retail cashiers, Linda at the Founder's Hall café sees many of the same customers come through her line every week. The fabulous thing about Linda is that she takes the time to learn her customers' names, what they like and what's happening in their lives.  As a result, she has a legion of loyal customers that look forward to seeing her smiling face along with their tasty meal every day.
Treat 'Em Right: A big part of the service provided by the staff at the Founders Hall Café is the Fabio Caparra's management style. He's a soft spoken guy that treats everyone with patience and respect. As a result, his staff is inspired and empowered to do the same for customers.  Consistently warm and caring customer service can only occur when staff members are receiving the same kind of support from their manager.
Latest Loyalty Insights
In the News
Recommended Videos