The Key to Food Service Loyalty in The Digital Age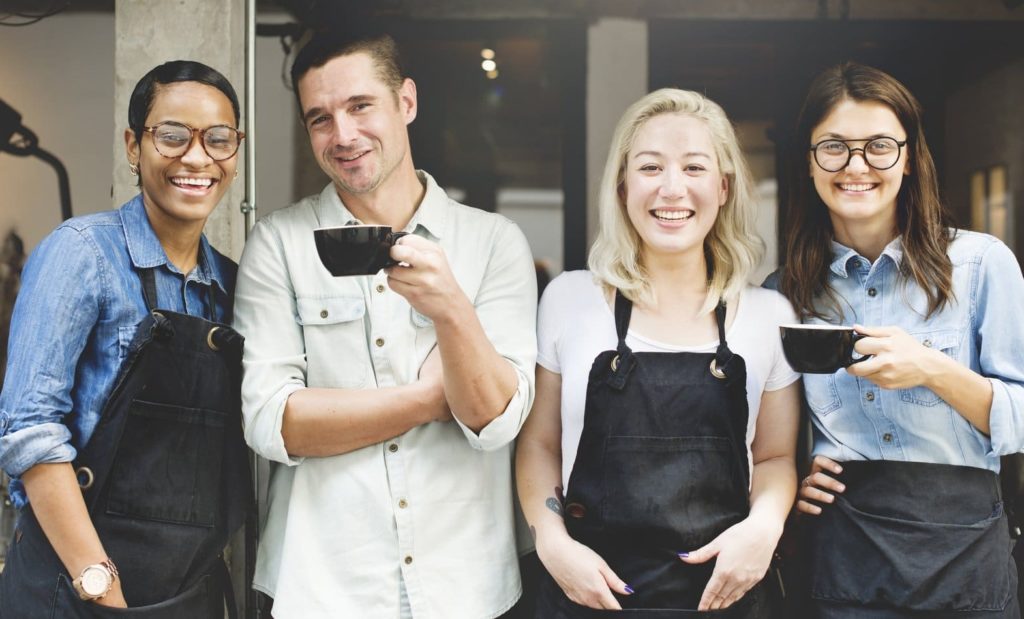 As digital devices and services have proliferated in food service over the past decade, it seems that customer and employee loyalty have generally become more difficult to build and sustain.  Despite this trend, a few companies have managed to continue their growth undeterred by The Digital Age.  One of these is Starbucks, which has generated +4% same store sales growth in each of the past five years.  What accounts for their consistent growth and loyalty?  I learned the answer the hard way over a decade ago and the lesson remains just as relevant today.
It was the summer of 2006, when I first learned that Starbucks' tremendous success is largely due to something other than the quality of its coffee or the location of its stores.  Back then, I was senior vice president of marketing at Aramark, a $13 billion company that provides food service in schools, hospitals, universities, corporate offices and stadiums around the world.
At the time, Aramark was a licensee of Starbucks and operated about 75 of its coffee shops on college campuses. But Aramark had been struggling to deliver the kind of customer experience that Starbucks was known for.  As a result, Aramark was at risk of losing its Starbucks license.
Now this would have been a huge problem for Aramark, so we pleaded with Starbucks to give us a chance to turn things around.  In a last ditch effort to salvage the relationship, a team of Aramark executives was invited to spend a few days at Starbucks headquarters in Seattle to get immersed in the company's operational philosophy and approach.  I was fortunate to be among those that made the trip.
During our visit, I expected to hear about how Starbucks prepared their coffee, designed their stores and standardized their customer experiences.  And we certainly heard about some of those things.  But the thing that stood out most for us – the thing that Aramark was missing was something entirely different.  It related to how Starbucks recruited, managed and motivated its employees.
In particular, they told us about something called the Little Green Apron Book, which as the name suggests, was a little green handbook sized to fit inside the pocket of a Starbucks apron.  The book describes for employees what Starbucks calls "The Five Ways of Being," which are: be welcoming, be genuine, be considerate, be knowledgeable, be involved. For each of these ways of being, the book offers specific examples of behaviors that describe what that way of being looks like.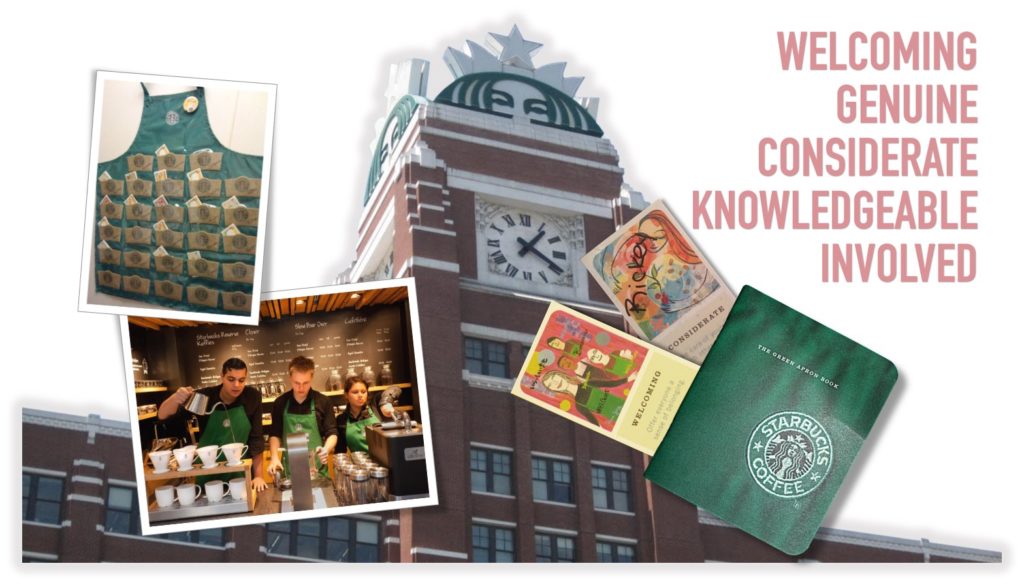 Perhaps most surprisingly, these "Ways of Being" weren't just training ideas that sat on a shelf somewhere. They were the core management approach in every location.  Every day, Starbucks "partners" would catch one another in the act of one of these Ways of Being, whether on behalf of a customer or a colleague.  They would present one of these cards to their colleague with a short description of what they had done on the back.  The cards would then be collected for each person in an apron on the wall with cardboard cuffs in the back room.
At the end of each month, these cards were sent to the district office where they were summarized in stories that were shared across the organization, celebrating all the ways these Ways of Being were practiced. They shared some of these stories with us and one story in particular made a big impact on us.
We were told about a Starbucks store with a regular customer named Pete.  Pete was a quiet, elderly man that came in several times a week for a simple cup of coffee while he read the newspaper. The Starbucks baristas knew him by name and how he liked his coffee.  Pete had been a regular at the store for a few years, but then one day his visits suddenly stopped.
Some weeks later, a young woman showed up at the store asking if anyone there knew of an older man named Pete, and of course, everyone did.  She told the employees that Pete was her father, and that he had recently passed away.
While cleaning out her father's apartment, the young woman found something that surprised and confused here.  There were two large bags filled with Starbucks cups with hand written notes to her dad that said things like "have a nice day", "come back soon" and "hope you feel better."
Apparently they meant so much to her dad that he couldn't bear to throw them away.  So she wanted to come down and thank them for the obvious difference they had been making in her dad's life.  She never knew about it before.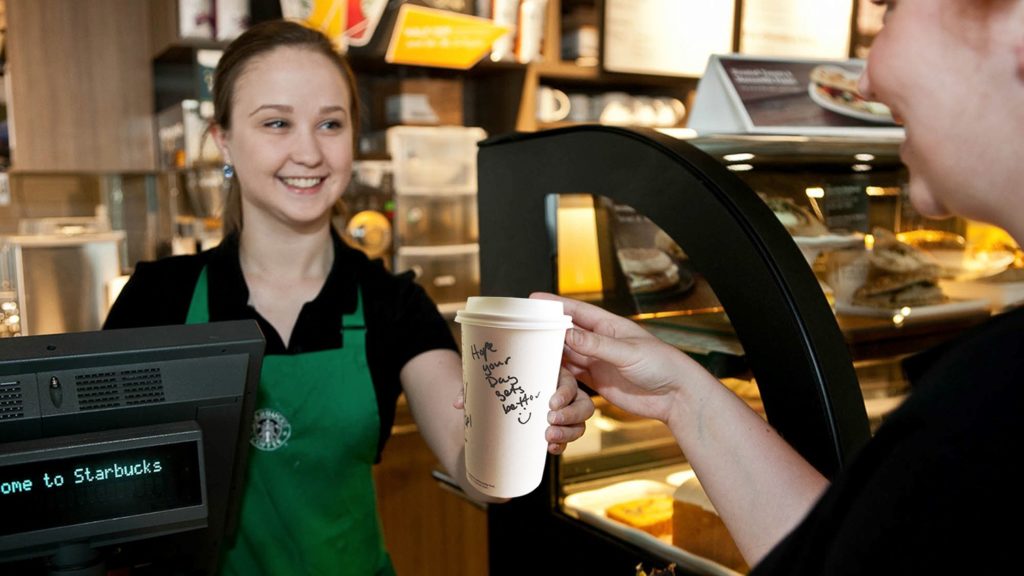 So it begs the question, what caused Pete to keep the cups?  Was it the quality of the coffee?  The price?  The location or the rewards program?  No it wasn't any of those things.  It was those simple gestures of goodwill and kindness that make another person feel valued and cared about.  These little things that cost us nothing more than a bit of extra effort and consideration that make all the difference in the world.
That's what we were lacking at Aramark in operating Starbucks stores.  We needed to aim higher than delivering prompt service or a properly made beverage.  We needed to aim for making a lasting difference in the lives of customers every day.  It we are willing to aim for that higher purpose, we'll get all the lasting loyalty and growth we want right along with it.  That's the real secret to Starbucks continued success, as highlighted by CEO Kevin Johnson in their Q1 2019 earnings call.
So even in The Digital Age, the key to lasting loyalty customer and employee loyalty in food service remains the basic human connections that can occur between them.  Food and beverage operators of all kinds would do well to remember and embrace this in their own establishments!
Latest Loyalty Insights
In the News
Recommended Videos