Putting Customers and Employees First in Auto Repair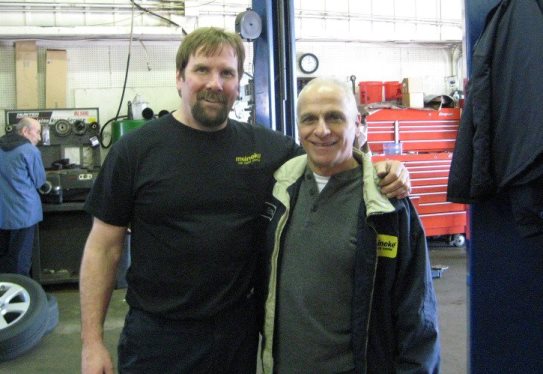 Manager, Ken Barycki and Owner, Eddie Teen
Image Credit: Meineke Shop 745
Twenty years ago, a retired New York City train dispatcher named Eddie Teen used his life savings to purchase a struggling Meineke Care Care Center in Newtown Square, PA. Teen had never run a business before, but he knew he wanted to create something different: a customer-friendly approach to car repair.
"All my life, I'd never experienced customer care at auto shops," says Teen, now age 71. "I go to a lot of dealerships to pick up parts and I see how the service department deals with customers. There is no personality at these counters, no warmth or empathy for the customers." Teen, by contrast, instructs his employees to do simple tire repairs, light bulb replacements and used-car evaluations free of charge, and to not worry about making sales. "The sale comes. If the car needs something, it needs it," he says. "But the customer, making the customer feel taken care of, that's what is important."
"Eddie's motto is customers first, every day, every time, and he really goes out of his way to make sure that it sticks, not only with himself but with the rest of his staff, as well," says Robert Fillman, Meineke's Franchise Business Consultant for the 37-shop southeastern Pennsylvania, southern New Jersey and Delaware region. The formula has been working. Teen's shop ranks near the top among its regional peers in sales and won a national award from Meineke for "Outstanding Achievement in Customer Satisfaction, Sales & Operational Execution."
When it comes to customer retention, says Teen, "we blow everybody off the map." According to Fillman, Teen's shop ranks in the top 5% of Meineke shops nationally.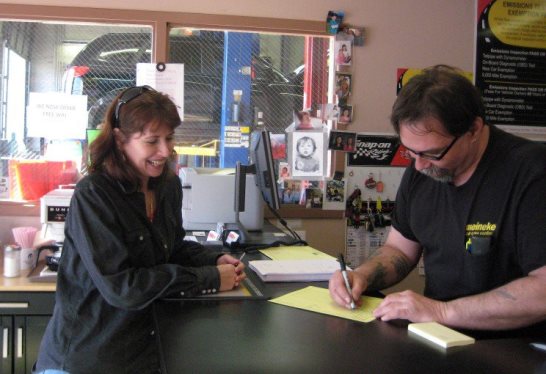 Meineke customer and Asst. Manager, Tom Lutz -
Longtime customer Rob Hagarty, a restaurateur in nearby Broomall, still recalls that when he first brought his car to Teen's shop for a tune-up nearly twenty years ago, they refused to sell him anything. "They said, 'We took it for a test drive, we can't find anything wrong with it, so you don't owe us a dime.'" Hagarty's been a loyal customer ever since, and his three adult daughters have all brought their cars to Teen's shop, as well.
The formula for success at Eddie Teen's Meineke shop begins with staff selection. "We hire people here based on personality and fit," says manager Ken Barycki, who has been with Teen since the day he took over the shop. "Everyone is here to help each other, with the end goal in mind to keep ourselves in business. You can't do that with bad personalities and friction occurring daily." The resulting work environment is so positive that many long-term employees drive long distances to get to work. "They're different here, they listen," says technician Miguel Bayala, who commutes an hour each way every day. "I take the ride," he says. "It's worth it."
"We're treated like family here," says assistant manager Tom Lutz. "That's why we succeed. If you have this atmosphere among employees, it rolls over. We deal with our customers as family and that's why they keep coming back." Teen often buys lunch for the whole shop, schedules special dinners at area restaurants and once a year closes shop early so the whole team can go on a weekend of whitewater rafting. Employees typically refer to Eddie as a father figure, and one year they chipped in and presented him with a plaque that reads "In Recognition of All The Things That You Do Above and Beyond as a Boss and as a Man." Lutz adds, "Eddie wants everyone to be happy here, and that's what carries on to the counter."
Cliff Thompson, Tom Lutz, Eddie Teen and Miguel Bayala -
For his part, Teen says "my success is connected to these guys. I've gone through a number of people, and, although I don't like to let people go, in that process Ken and I manage to pick out some very interesting types that just all blend together. We're such a strong family in that way."
Key Insight: Lasting customer loyalty and its accompanying sales growth begins with having a strong team of employees who feel respected, appreciated and cared for as people.  We call this the Principle of Worthy Intentions. By putting the best interests of employees and customers ahead of his own, Eddie Teen has earned a level of trust, commitment and loyalty that is not only very personally rewarding, but has generated high customer retention rates and healthy financial returns.
Ideas to Consider:
Eddie Teen and his managers make hiring decisions primarily on the basis of how their personalities will fit in the shop and secondarily on the basis of technical prowess. With younger employees in particular, says manager Ken Barycki, "we look for personality and we grow them as technicians."  Teen admits that this process requires additional care with bringing new employees up to speed, but his conviction is that technical skills can be taught, while natural human warmth cannot. Consider which areas at your workplace would benefit most from a similar approach in recruitment, hiring and training.
When repairs don't go as planned, or when an employee makes a mistake, Eddie makes a point of re-assuring the employee. Having gone out of his way to hire helpful, conscientious personalities, Eddie says he already knows that his technician feels terrible about a mistake, so he turns the employee's attention back to fixing the customer's problem. Is this how inadvertent problems and mistakes are handled in your organization?  Give this approach a try with one of your colleagues or staff members and watch for how appreciative they are in return.
Eddie and his managers proactively build goodwill with customers by fixing small things at no charge. The result is usually a return visit when more substantial repairs are needed.  What simple, low-cost gestures of goodwill can your company or brand offer customers to earn their trust and repeat business?
Latest Loyalty Insights
In the News
Recommended Videos