A Fresh Take on Building Customer Satisfaction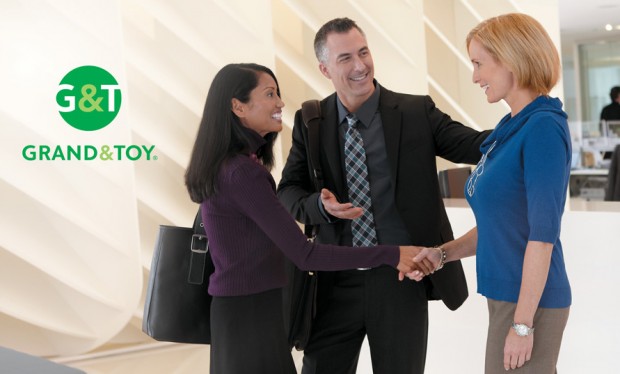 Companies of all sizes face a growing challenge in managing and growing customer satisfaction.  They seek feedback to track how they're performing, but many customers have become overwhelmed by the glut of survey requests generated by everything from rental cars to movies and restaurant meals.  No one has time to respond to all of them, so how does one rise above the clutter?
Well, one Canadian company is bucking the automation trend and has boosted its satisfaction ratings by adding a highly personalized twist to its program – the promise of a fast, personalized response to every customer's problem or question from a live person.
When Toronto-based office supplier Grand & Toy decided to focus its efforts on enhancing its customer-first culture in early 2014, it had been six years since the company had last surveyed its customer base.  From the start, they were concerned that a traditional satisfaction survey wouldn't produce a full picture of how customers were feeling about the company, nor would it be helpful to those with individual questions or problems in need of resolution.
"We wanted to understand where we stood in terms of overall customer service and also wanted to address specific customer concerns as quickly as possible," said marketing manager Angela Kommissar at Grand & Toy. "What's the point of asking our customers where their pain points are if we are not able to address them promptly?"
So Grand & Toy's feedback program would invite customers to detail any unresolved issues or concerns they might have about the company and its services and promised a personal reply within 72 hours.  "The whole point of this personal approach is to make sure that customer questions were forwarded to appropriate person where somebody could actually fix the problem," said Gaurav Sharma, senior director of marketing and e-commerce at Grand & Toy. "It's a way for us to actually make a meaningful difference for each customer."
Since its inception, the program has captured feedback from nearly 20,000 customers and generated more than 1,100 individual requests for help or information.   Many of these requests involved simple-to-resolve problems and easily answered questions. Others, however, required personal handling, such as the woman who was frustrated that she couldn't return an unopened case of bottled water that she had accidentally ordered.
Marion Kendall, the program's dedicated senior customer experience manager, took the time to explain to her how public health and safety concerns prevent Grand & Toy from accepting returns of consumable items, but was able to credit the customer's account for the full cost of the mistaken order. Still other enquiries involving issues over billing and product returns that required Kendall to follow-up with different areas within the organization in order to get them resolved.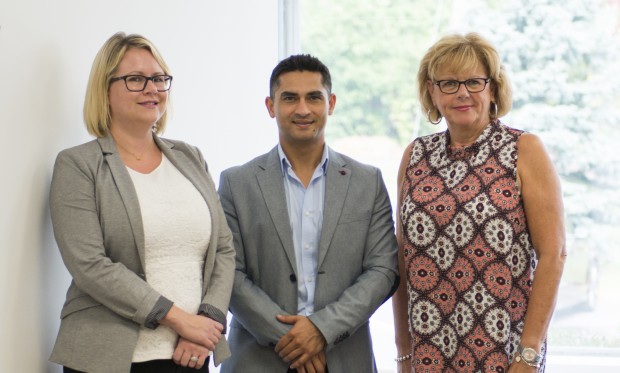 Angela Kommissar, Gaurav Sharma and Marion Kendall - Image credit: Grand & Toy
"I'm the customer advocate," Kendall says. "Loyalty is driven by the customer's experience of how easy it is to do business with you. No one is perfect. No organization is perfect. We're going to make mistakes. But if you make it easy for customers to fix issues when they come about, they are going to be more loyal."
Listening and responsiveness are values fully aligned with Grand & Toy's distinctive image, which is that of a beloved 100-year-old Canadian company in competition with large and impersonal office supply companies. Since the customer feedback program began in 2014, measures of customer satisfaction, likelihood to recommend and relationship strength have all notched double-digit increases.
"Throughout Grand & Toy's long history one thing has remained constant, our essence our soul has always been our customer first approach," Sharma notes, "It's about staying true to our roots and reinforcing customer advocacy as a top  priority through this program, and it's really helped us solidify our relationships with our customers."
"It's two-way communication, not just one-way feedback," Sharma says of the innovative program. "When the customer feels they can request assistance which will be immediately followed up on, they feel more connected with their provider. They feel there's someone willing to listen and address their concerns immediately. And that's the key factor."
Key Insight        
Gathering feedback from customers should not be an arms-length and impersonal research exercise.  Rather it's an opportunity to demonstrate personalized attention and responsiveness from a live person, while also gathering performance data that can be used to strengthen customer loyalty.  The reality is that providing personalized responses and follow-up to customers in the context of a satisfaction survey is not a daunting and costly task.  On the contrary, it's a refreshing experience that's is much appreciated by customers.
Ideas to Consider
Fund a "Fixer": Grand & Toy's dedicated customer experience manager, Marion Kendall, is essentially an empowered "fixer".  She acts as a supplement to the customer service department and has the authority to work across functional areas to diagnose and resolve difficult problems.  She is considered a godsend by customers who have urgent issues that need to be addressed and routinely makes a lasting difference in Grand & Toy's relationship with them.  Funding her role required additional budget commitment, but her results have recouped that investment many times over.
No More "No-Reply": Stop sending "no-reply" correspondence of any kind to your customers.  Whether it be a survey invitation, a newsletter or promotional offer, nothing says "I don't care about you" more clearly than a "no-reply" email, text or letter.  Today's digital communication tools and devices allow companies to correspond with customers more efficiently than ever before, but they certainly are no substitute for human to human interactions entirely.
Give Out Your Cell Number: Since early 2014, over 260,000 Grand & Toy customer feedback invitations have been distributed to customers and every one of them included the name, title, email address, office phone and cell number of a live person, with an invitation to respond or call with any questions or concerns.  Doing so has resulted in consistently strong participation rates and delighted customers when a live person actually responds.  In over 18 months, only a handful of customers have ever actually replied by telephone, while tens of thousands have been impressed by the highly transparent gesture.
Latest Loyalty Insights
In the News
Recommended Videos