WestJet Airlines Creates a Caribbean Christmas Miracle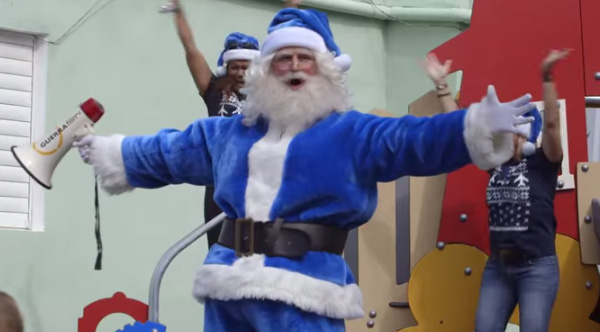 The recent holidays were very good for the people of Nuevo Renacer in the Dominican Republic, thanks to Canadian air carrier WestJet. The tiny beachfront community awakened one late-November morning to heaps of artificial snow in its streets, a giant sleigh display and a jolly Santa Claus taking down gift requests through a camera and microphone built into the sleigh.
For the next 24 hours, volunteer WestJet staffers scrambled like elves to fulfill hundreds of holiday wishes by the following morning. Video cameras captured the unscripted joy of shocked villagers who received everything from a skateboard, a dollhouse, a crib and a washing machine. The local taxi motorbike driver received a new engine and Santa Claus personally presented a carriage-driver with a new horse.
"With the miracle, our first goal was to create a great experience," says Corey Evans, manager, sponsorship, community investment and experiential marketing for Calgary-based WestJet. "The second was to create a video that tells a great story." The resulting YouTube video has already been viewed over three million times.
The previous year, WestJet had produced a similar "Christmas Miracle" video by documenting WestJet's delivery of holiday-gift wishes for dozens of unsuspecting travelers on two of its flights. Both beautifully filmed and scored Christmas Miracle videos went viral thanks to post on social media by key influencers, broad coverage by morning TV shows and with the support of the airline's own social-media sites.
The 2013 video alone generated 40 million views and one billion Twitter impressions. Evans credits the miracle video with helping double the number of visits to the airline's website and helping boost sales revenue by 86 percent during the 2013 holidays.
"When our first video came out, we got a lot of great feedback from employees, saying that they're really proud to work for an organization that would do such a thing for guests," says Evans. "The same is happening with the this new video. We can't put a price-tag on that."
One of the rewards of involving employees in such high-profile acts of kindness is an enviable level of company morale. Back in 2010, having claimed the top spot as Canada's most admired corporate culture for four years in a row, WestJet was inducted into Waterstone Human Capital's Hall of Fame in 2010. More recently, Randstad Canada, the country's largest staffing, recruitment and HR-services agency, has recognized WestJet as Canada's "most attractive employer" in its poll of 8,500 job seekers.
"Some of the fun stuff they've done… I think it puts a bit of a human profile to a corporation," Ranstad's Tom Turpin, president of technology and engineering, told Canadian Business in May 2014. "It sets a tone that this place – not only are they forward thinking and a great place to work, but you might have fun every day going in, too."
"Fun" is just one of the values touted by WestJet since its founding in 1996 with only three aircraft, five Canadian destinations and 220 employees. The company has since grown to 10,000 share-holding employees (nicknamed "WestJetters") and offers service to over 88 destinations in Canada, the United States, Mexico, Europe and the Caribbean.
Part of WestJet's mission is to provide community reinvestment in the destinations it serves. That's how the company began its relationship with tiny Nuevo Renacer, an impoverished seaside community of ramshackle homes not far from La Romana Airport. In 2012, with enthusiastic help from hundreds of WestJetters, the company built 23 new homes in Nuevo Renacer, refurbished a basketball court and raised funds to keep a medical clinic open for additional days during the week.
By 2014, so many WestJetters had built close relationships with the townspeople, it seemed like a natural next step to bring a once-in-a-lifetime "Christmas miracle" to people who could use one. "In other words," says Evans, "this wasn't a one-off experience. It was the continuation of an important relationship we had already established." The 2014 celebration also included the opening of a new children's playground, fireworks and a tree-lighting ceremony.
WestJet's company culture supports and recognizes all kinds of volunteer efforts by is WestJetters. For example, employees who volunteer 40 hours a year are allowed donate to their selected charity two tickets to anywhere in the WestJet network. All throughout the year, WestJet officially sponsors eight Canadian children's charities, and some 1,300 charities take part in the company's Airport Giving Program, in which nonprofits can obtain free WestJet flights to be raffled off for fundraisers.
"We have over 10,000 employees, so that's quite a level of commitment and obviously something we really care about," says Evans. "Our CEO Gregg Saretsky often pops down to our meetings just to see how our programs are going."
So what miracle is on tap for next Christmas? It's too soon to say, but Evans notes that WestJet plans to release more videos throughout the year to engage and energize customers and employees alike. The company has launched a web series called Above & Beyond to introduce readers to Canadians who make a difference in the lives of everyone they meet.
"They make us smile. They care," reads the website's introductory banner. "And we're sharing their stories – because we admire what they do and because they inspire us to be better at what we do every day."
Key Insight:
Every year the holiday season provides a golden opportunity for companies and brands to demonstrate goodwill toward others in ways that can warm the hearts of customers and inspire feelings of pride among employees. WestJet's community service activities are ongoing year-round, but the company takes special care to demonstrate warmth and worthy intentions during the holidays, when everyone's hearts and minds are especially open and sensitive to such gestures.
Ideas to consider :
Make a commitment: Take the time and effort prior to the holiday season to plan out thoughtful and sincere gestures of gratitude and goodwill toward those who make your business possible. The widespread practice of sending generic holiday cards, emails and gifts emblazoned with the company logo is a wasted opportunity to show your community, customers and employees that you know what matters most to them and you care enough to show them. Your heartfelt expressions will be cherished and appreciated for all of the coming new year.
Make it personal: Each holiday season, consider taking the time to write out your heartfelt thanks and appreciation to customers and employees in longhand. Our lives are so full of electronic communication these days that handwritten notes have grown scarce – and that makes your sentiments in your own hand more valuable, memorable and unique.
Make a Difference : Every community has people in need of support, inspiration and appreciation. Especially during the holidays, taking the time to reach out and spend time with those in need can make a lasting difference in their lives. Whatever you contribute will be appreciated, and your customers and employees are likely to notice that when each December arrives, your organization values things beyond its year-end financial results.
Latest Loyalty Insights
In the News
Recommended Videos