Method Products: The Power of Passion and Purpose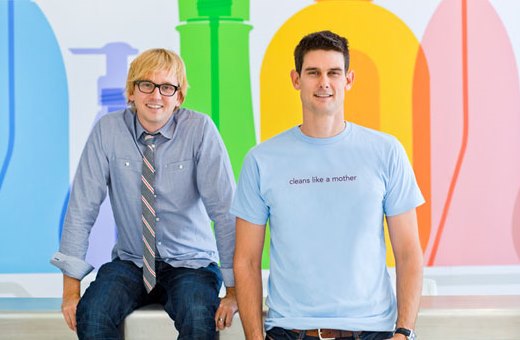 Method founders Eric Ryan and Adam Lowry
Image Credit: Hither and Thither
Until Adam Lowry and Eric Ryan created their household cleaner company, Method, in 2001, it's safe to assume that most shoppers had only one requirement for their cleaning products. The stuff had to work. Period.
Shoppers didn't seem to care much about the products themselves – how toxic they were, who made them, how and where they were made, or the containers they came in. Soap was soap – necessary, prosaic and, for the most part, manufactured by faceless industry behemoths like Clorox, Unilever, S.C. Johnson and Procter & Gamble.
Lowry and Ryan changed all of that when they launched Method – a line of non-toxic laundry, dish and hand-and-body soaps, packaged in eco-friendly containers so hip and stylish that consumers prefer to set them proudly on top of the sink or tabletop rather than stash them out of sight.
The duo's passion, focus on the environment and commitment to package design has earned the company a fast-growing fan base. In 2006, just five years after its launch, Method ranked seventh in the Inc. 500 ranking of fastest-growing companies in the U.S. Then in 2012, with revenues topping $100 million, Method merged with green Belgian company Ecover for an undisclosed sum — creating what family-owned Ecover claims is the largest green cleaning company in the world, with revenue "north of $300 million."
The merger has not weakened Method's commitment to keep its intimate, authentic feel by continuing to nurture the unique abilities of its employees, whom they advise to "keep it weird." As the company's "humanifesto" playfully explains, "While we love a freshly detoxed home, we think perfect is boring, and weirdliness is next to godliness."
"We don't mean they need to come to work with purple hair or break-dance on tables… but that's okay too," laughs Alison Worthington, Method's global chief marketing officer. "One of our values is that we want people to bring their uniqueness – their weirdness – to work with them.  We're a disruptive brand. We're nothing like the industry giants. We want our people to embrace that culture."
The disruption began in the small San Francisco apartment shared by then-twentysomethings Lowry and Ryan, who'd been childhood friends in Grosse Point, Michigan. The duo had been brainstorming ways to re-think common, established consumer goods when they arrived at soap as a product primed for re-invention.
Lowry, a chemical engineer with an environmental degree, wanted to create safe, non-toxic soaps that were highly effective and would appeal to customers beyond the tiny market of "tree-hugging granola greenies" who purchased "safe" soaps out of grim concern for the environment.
Ryan, who had done edgy advertising for Gap, Saturn and other big brands, wanted to package the soaps in ergonomically designed, environmentally responsible bottles that were stylish, playful and made of eco-friendly materials that customers would feel great about using.
"Before Method came in, the whole idea of an eco-cleaner's design was that it was supposed to look like you were suffering," Ryan said in an interview with Grist, the environmental news website.
Added Lowry, "It's a very Catholic sentiment…continually frustrated that you buy these green products, and they cost more, they don't work, they're not fun to use. It's like guilt and absolution, instead of living a positive, healthy lifestyle."
Using $100,000 of their own savings, the duo set out to do better. They began whipping up batches of liquid soaps in their apartment bathtub and shopping them around to distributors. When the 2001 recession hit, however, retailers had little interest in taking a chance on an upstart like Method.  The tide turned in 2002, after test-marketing in just 90 Target stores drew an overwhelming response. Within seven months, Method's cleaning sprays and dish soaps were selling in Target stores nationwide.
Consumers loved the look of the transparent, teardrop-shaped bottles and the feel of the bottles' fit into the hand. When consumers got a whiff of Method's plant-based soaps, said Ryan, they realized the folly of using poisonous products "where you clean your tub with toxic cleaner, but then you soak in it afterward."  Method's intriguing scents – beach sage and Clementine, cucumber and lemon mint – were the antithesis of the harsh, bleachy fumes of traditional soap brands whose warning labels remind consumers of the need to ventilate whatever room they clean.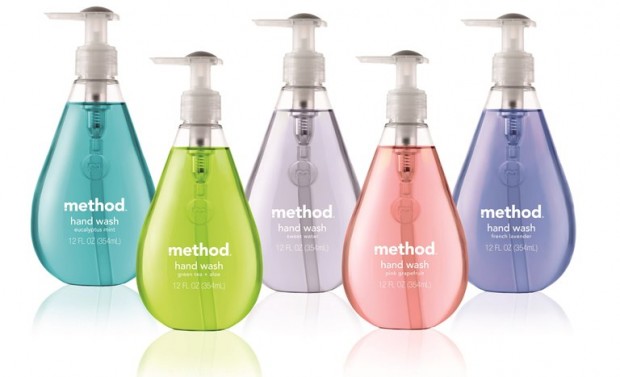 In 2013, Method reincorporated as a public benefit corporation, codifying that its corporate governance meets the highest standard of social and environmental ethics. And earlier this year, Method began hiring local residents at its very own factory in the economically depressed Pullman neighborhood of Chicago.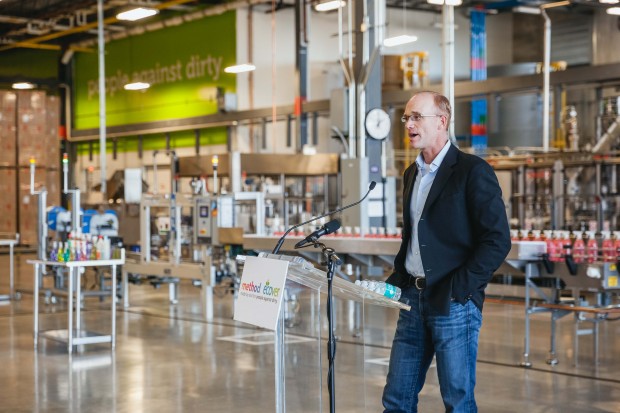 CEO, Drew Fraser, at Method's new Southside Soap Box manufacturing facility
Says Worthington, "We chose to invest in Southside Chicago, in a community that has not had a manufacturing facility in 35 years, hiring all local workers. The move exemplifies our triple bottom line: profits, people and purpose. It says we care about more than the bottom line. And that builds trust and loyalty.  We always put people first in everything we do"
"It's the first LEED platinum certified manufacturing facility in our industry which means that the majority of energy that powers the plant will be from the wind and the sun. It also features the world's largest rooftop farm (70K sq ft), which will produce up to a million pounds of fresh, sustainably grown, pesticide-free produce annually for the local community."
"We call it the Southside Soap Box –its our very own soap box to inspire peers, competitors and most importantly ourselves to do better…revolutionizing the way modern day businesses do business," she adds.
Key Insight: Method's leaders have consistently shown that they understand and look after the best interests of their customers, employees, communities and the environment.  This commitment is reflected in their eco-friendly non-toxic product ingredients, packaging and manufacturing plant.  As a result, Method has developed legions of loyal supporters and has achieved remarkable growth without the need for costly advertising, promotions or deep discount pricing.
Ideas to consider:
Discover your purpose: As an environmental scientist, Method co-founder Adam Lowry was frustrated that most household cleanser ingredients were so toxic and "dirty" that they were potentially more harmful than the messes they were intended to clean up.  His frustration inspired him to develop cleaning products that were safer to use, environmentally friendly and also more effective. This altruistic purpose is now reflected in Method's B Corporation status and continues to attract and inspire loyal employees, customers and other stakeholders to the company every day.
Disrupt a giant: Industries dominated by a few large companies or brands are often ripe for disruption because they are too bureaucratic and financially-driven to respond to changing customer needs and preferences in a timely manner.  As a result, there are plenty of customers looking for better alternatives in almost every industry. From which indifferent giant would you like to gain new customers?  The opportunities abound!
Do it with Passion: The irreverent passion of Method's team is reflected in everything they do, and company goes to great lengths to maintain that passion as it grows. In some ways, Method casts itself as much as a social movement as it is a for-profit company.  The company business purpose (and the title of the company blog) reads like a protest sign: "People Against Dirty." In addition, the virtue of "Keeping it Weird" is such an important workplace value that every job applicant is expected to explain how they would help keep the company weird during the interview process.
Latest Loyalty Insights
In the News
Recommended Videos