Driving Customer Satisfaction & Loyalty Growth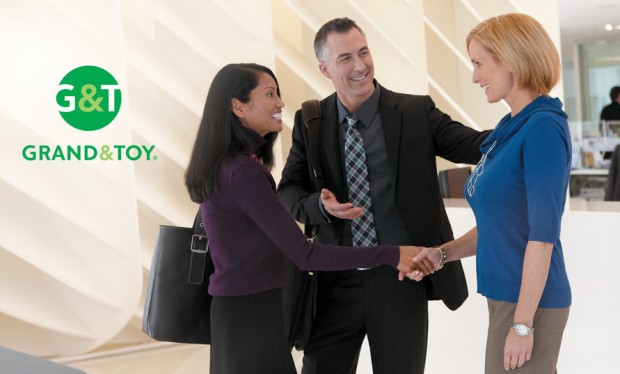 Image Credit: Grand & Toy
BACKGROUND
Grand & Toy (a wholly-owned subsidiary of Office Depot) is Canada's business-to-business office solutions company, with 1,500 associates in 18 commercial sales offices and 60,000 customers, from coast to coast. Founded in 1882 by James Grand and his brother-in-law Samuel Toy, the company is one of the best-known and most-loved Canadian brands. However, in recent years, the Canadian Office Products landscape has shifted significantly and the market is competitively saturated so Grand & Toy had to rethink their strategy to allow them to hold on to their market share.
In early 2014, the Grand & Toy management team made the decision to focus on going back to their roots of becoming a more customer-centric organization with a "customer-first" culture by gathering ongoing customer feedback that could be used to guide business strategy and implement targeted marketing initiatives. In particular, the company sought to implement a truly comprehensive and continuous customer satisfaction tracking program.
Fidelum Partners was retained to design and manage the satisfaction tracking program leveraging its unique warmth and competence loyalty model, along with its deep customer segmentation and analytics expertise.
SOLUTION
After working with the Grand & Toy marketing and leadership teams to define the scope and desired outcomes from the program, Fidelum Partners conducted a benchmark study of over 8,000 customers to create a foundation for ongoing tracking. The benchmark study determined the key drivers of Grand & Toy customer loyalty, as well as how the company was performing on each across major customer types and regions. In addition, the study identified five distinct attitudinal segments of customers, each with differing priorities, perceptions, satisfaction and loyalty toward Grand & Toy.
Committed Supplies Loyalists – Satisfied long-time customers that primarily purchase paper and toner.
Enthusiastic Relationship Seekers – Highly engaged customers that especially value strong working relationships.
Ambivalent Furniture Actives – Frequent customers that primarily purchase furniture
Unhappy & Indifferent Spenders – High spending contract customers who are dissatisfied but unable to change suppliers.
Angry Cleaning Critics – Very dissatisfied contract customers that primarily purchase cleaning supplies.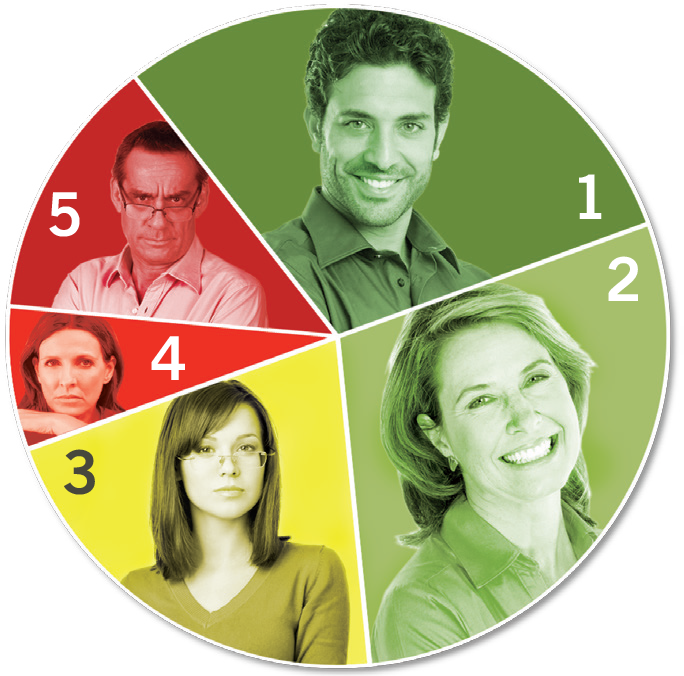 To deeply understand the status of Grand & Toy's relationship with each of these customer types, Fidelum Partners applied its warmth & competence loyalty framework, the firm's breakthrough method for assessing the drivers of loyalty and identifying areas of weakness that must be improved to strengthen it.
Over the past several decades, social psychologists deduced that as humans struggled for survival they had to develop an ability to make two kinds of immediate judgments: What do other people intend toward me? How capable are they of carrying out those intentions? Researchers call these two critical categories of human perception "warmth" and "competence." Fidelum Partners and a team of leading social psychologists have extended that research, finding that at the deepest level, customers become loyal to companies and brands in precisely the same way, instinctively judging them on their warmth and competence.
The benchmark study analysis revealed that while Grand & Toy was exceeding customer expectations on several competence dimensions, such as competitive payment terms and electronic billing, they were falling short on critical warmth dimensions, such as quick problem resolution and employee responsiveness. So despite that nearly the vast majority of customers were quite satisfied and loyal to Grand & Toy, some were still being inadvertently alienated by inconsistent service recovery.
RESULTS
As a result of these findings, Fidelum Partners developed an ongoing customer satisfaction tracking program that included personalized correspondence and an early alert system that flagged unhappy customers and routed their concerns to a dedicated problem resolution specialist that would follow-up in-person within 48 hours. During the first year, over 16,000 customers provided feedback on Grand & Toy's performance and over 1,000 customer problems were proactively identified and promptly resolved through the tracking program.
In addition, a number of other operational changes were made based on the timely feedback received. These included simple but greatly appreciated adjustments, such as reduced product backorders and enhanced website search features. Customers responded with double-digit increases in satisfaction, willingness to recommend and relationships strength. These gains were driven by improved performance on key warmth dimensions, including taking the time to understand customer needs, resolving problems quickly and acting in customers' best interests.
Importantly, the strongest gains were achieved with the Unhappy & Indifferent Spenders and Ambivalent Furniture Actives customer segments. In fact, many of these were converted to Committed Supplies Loyalists, growing this high-value segment by double-digits, to over 40% of Grand & Toy customers.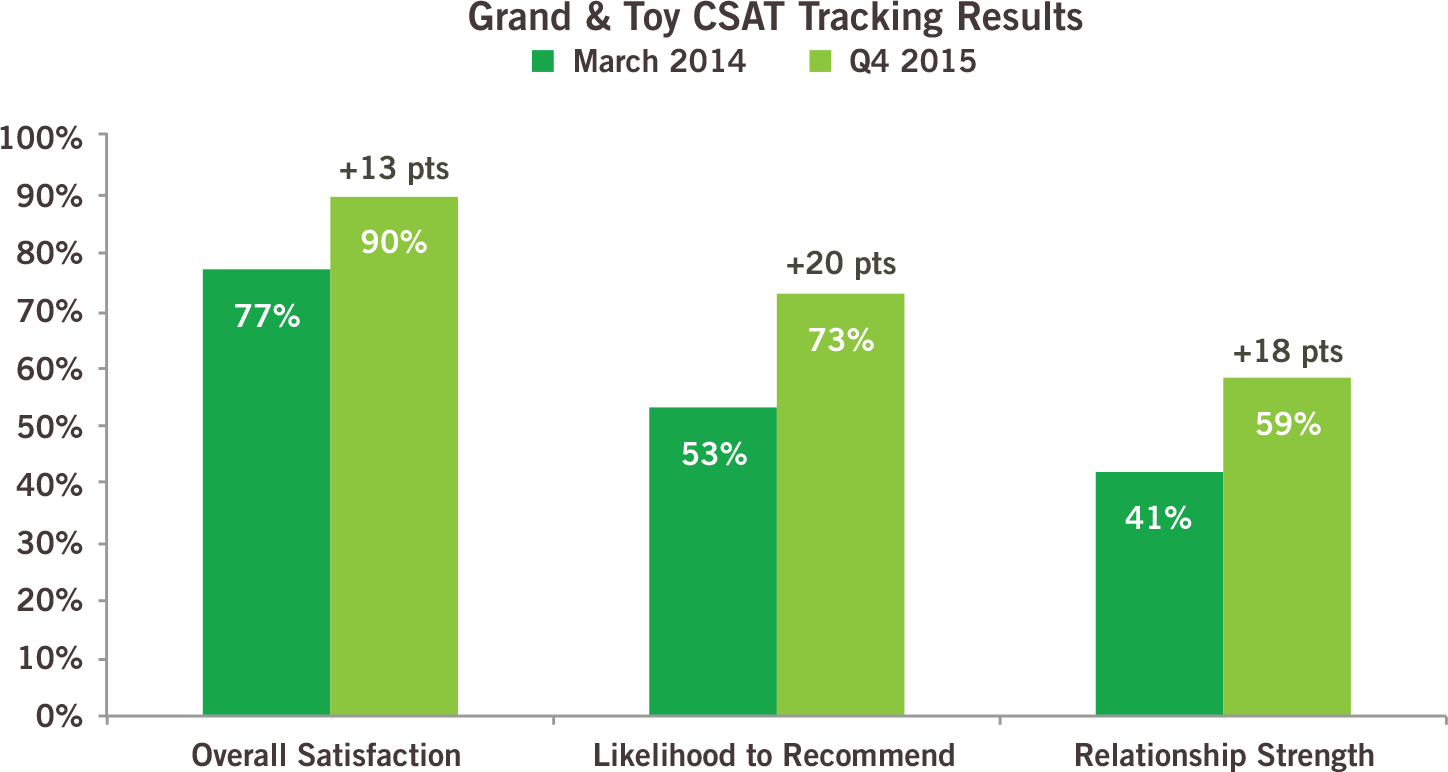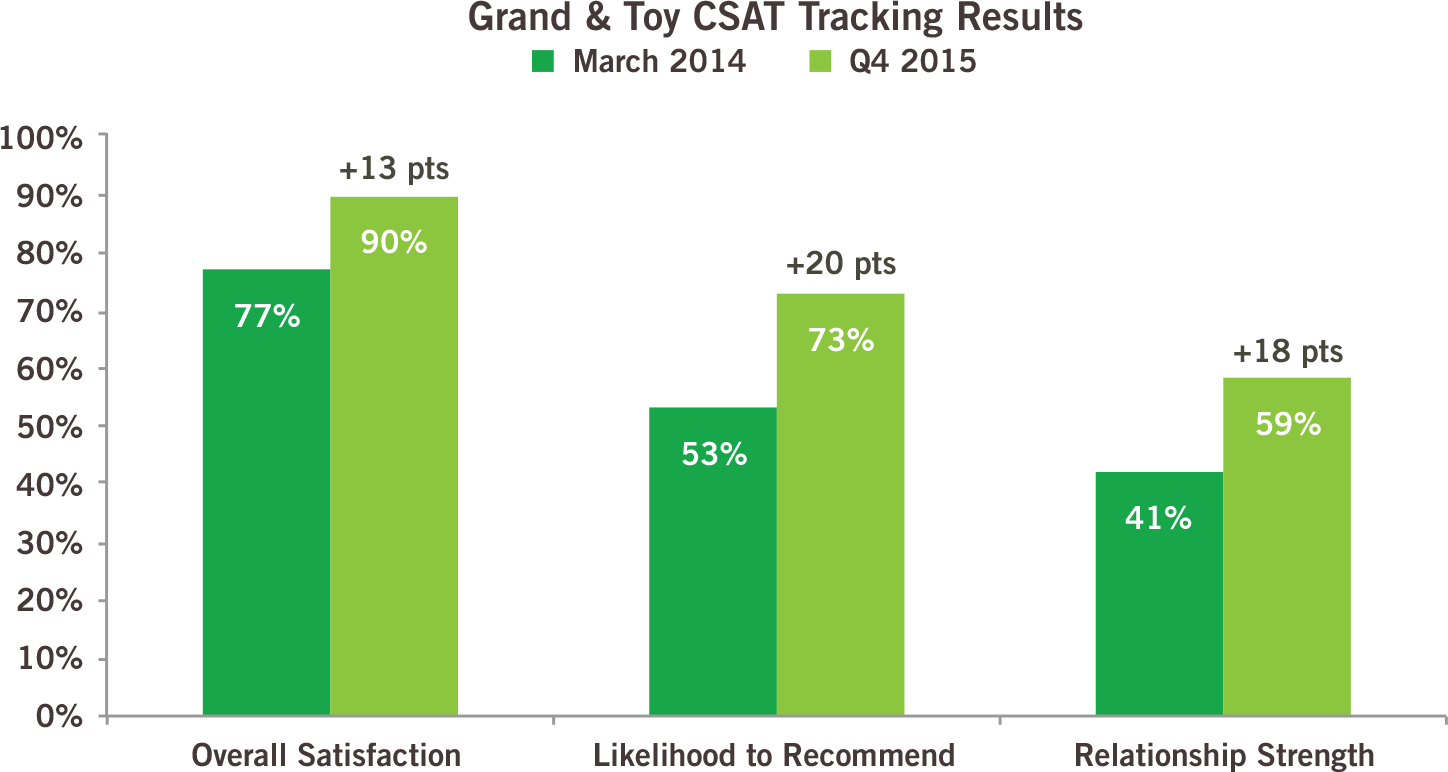 "We selected Fidelum Partners to be our CSAT research and tracking partner based on their extensive experience and expertise in understanding customer behavior and loyalty triggers. Their clear and actionable insights enabled us to successfully pinpoint and address customer experience issues, resulting in a steady improvement in satisfaction and loyalty."

Gaurav Sharma
Senior Director, Marketing and eCommerce
Grand & Toy